Christine Seidl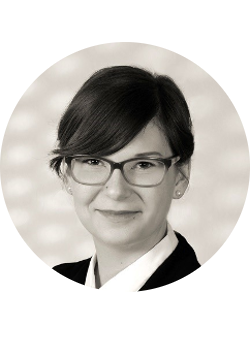 About
Christine Seidl studied Biomedical Chemistry at the Johannes Gutenberg University Mainz and graduated in 2018 (M.Sc.). During her master thesis, her research focused on the synthesis and characterization of polypept(o)ide based-cylindrical polymer brushes as trifunctional vaccines for cancer immunotherapy. Her current doctoral study is focused on the synthesis and characterization of tailored polypept(o)ide-based cylindrical polymer brushes as multifunctional drug delivery platform, which is pursued by the synthesis of various brush designs/morphologies, functionalization via in vivo click chemistry and immunoconjugation.
Contact
seidl@uni-mainz.de
Institut für Organische Chemie
Johannes Gutenberg-Universität Mainz
Duesbergweg 10-14
55128 Mainz
+49 6131 39 25468
Research topic
Polypept(o)ide-based Cylindrical Polymer Brushes as Multifunctional Drug Delivery Platform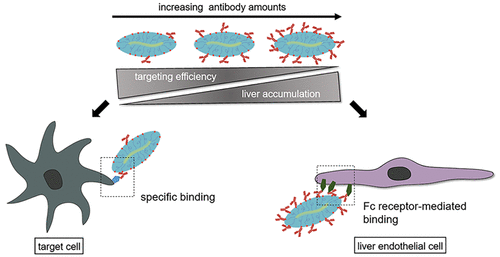 Density of Conjugated Antibody Determines the Extent of Fc Receptor Dependent Capture of Nanoparticles by Liver Sinusoidal Endothelial Cells

Cinja Kappel, Christine Seidl, Carolina Medina-Monatano, Meike Schinnerer, Irina Alberg, Christian Leps, Julian Sohl, Ann-Kathrin Hartmann, Michael Fichter, Michael Kuske, Jenny Schunke, Gabor Kuhn, Ingrid Tubbe, David Paßlick, Dominika Hobernik, Rebekka Bent, Katharina Haas, Evelyn Montermann, Kerstin Walzer, Mustafa Diken, Manfred Schmidt, Rudolf Zentel, Lutz Nuhn, Hansjörg Schild, Stefan Tenzer, Volker Mailänder, Matthias Barz, Matthias Bros, Stephan Grabbe

ACS Nano, 2021, 15, 9, 15191-15209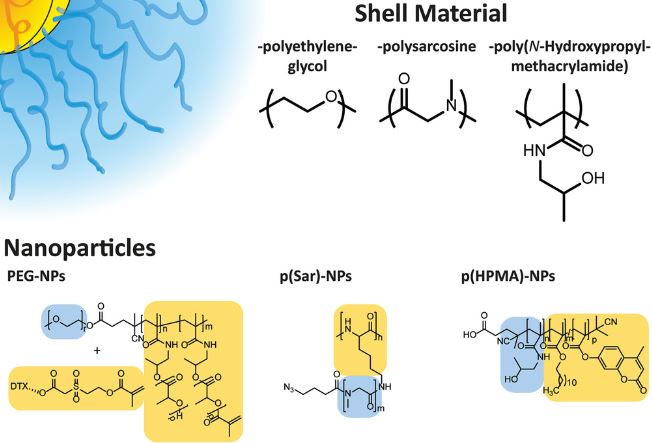 Polymeric Nanoparticles with Neglectable Protein Corona

Irina Alberg, Stefan Kramer, Meike Schinnerer, Qizhi Hu, Christine Seidl, Christian Leps, Natascha Drude, Diana Möckel, Christianne Rijcken, Twan Lammers, Mustafa Diken, Michael Maskos, Svenja Morsbach, Katharina Landfester, Stefan Tenzer, Matthias Barz, Rudolf Zentel.
Small, 2020, 16, 18, 1907574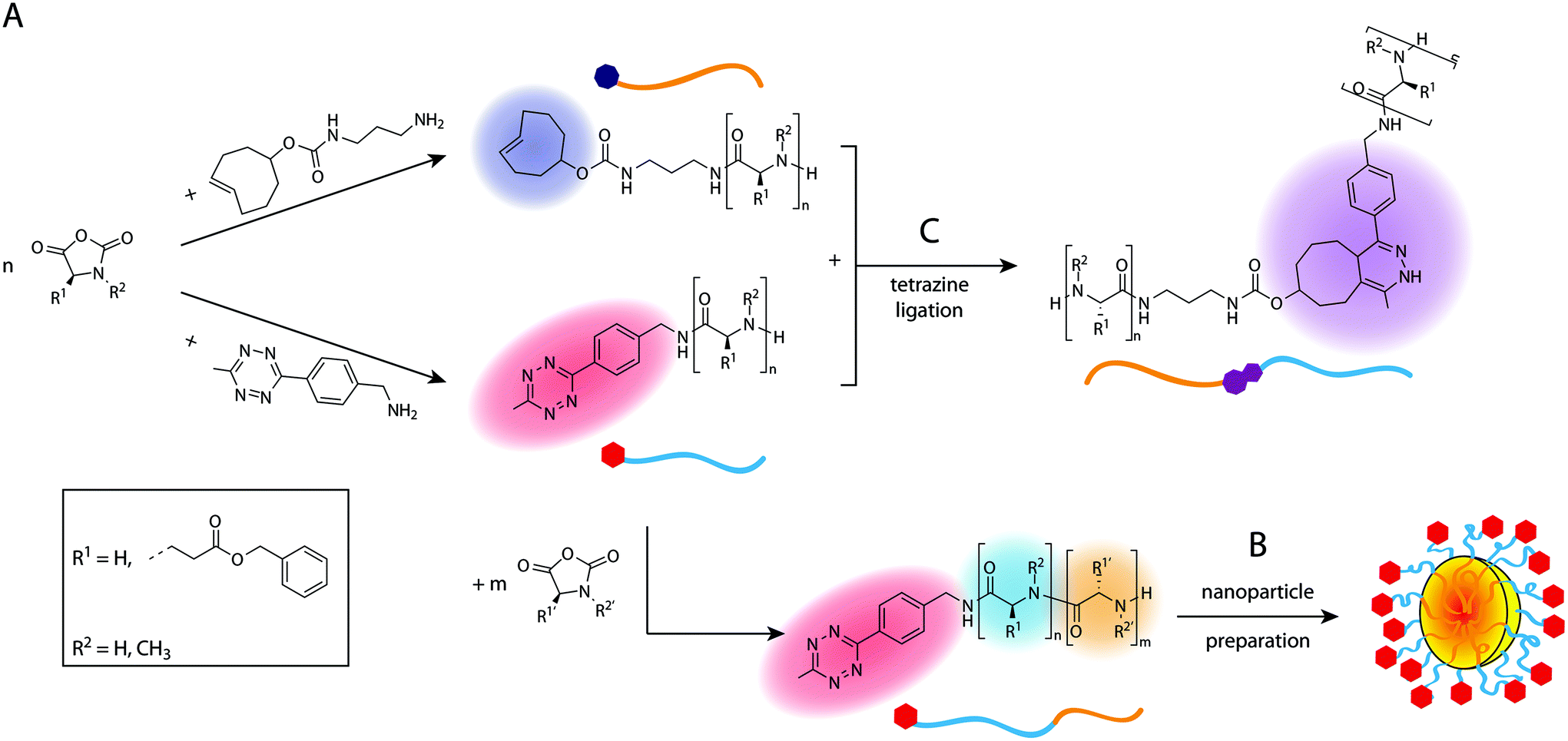 Tetrazine- and trans-cyclooctene-functionalised polypept(o)ides for fast bioorthogonal tetrazine ligation
Kerstin Johann, Dennis Svatunek, Christine Seidl, Silvia Rizzelli, Tobias A. Bauer, Lydia Braun, Kaloian Koynov, Hannes Mikula and Matthias Barz
Polym. Chem., 2020, Advanced Article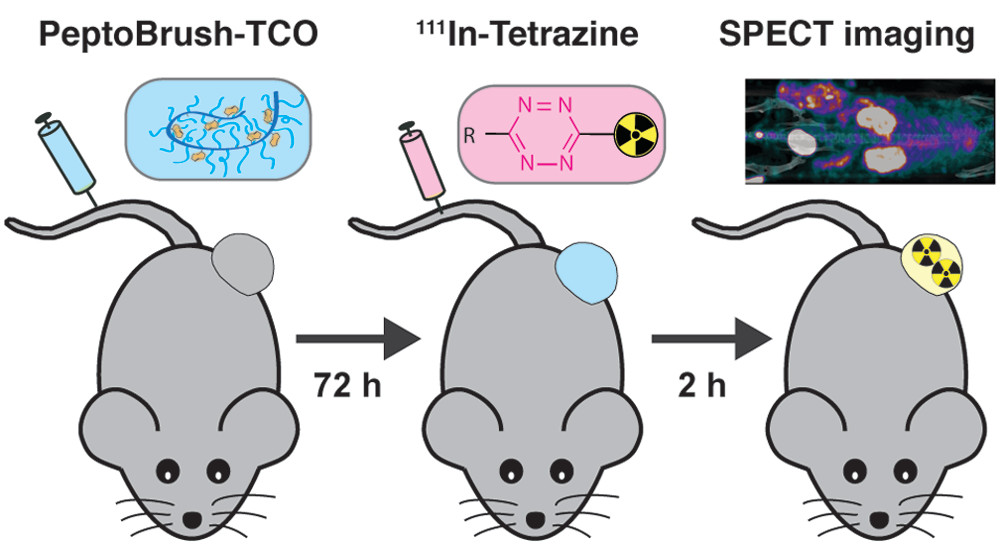 Trans-Cyclooctene-Functionalized PeptoBrushes with Improved Reaction Kinetics of the Tetrazine Ligation for Pretargeted Nuclear Imaging
E. Johanna L. Stéen, Jesper T. Jørgensen, Kerstin Johann, Kamilla Nørregaard, Barbara Sohr, Dennis Svatunek, Alexander Birke, Vladimir Shalgunov, Patricia E. Edem, Raffaella Rossin, Christine Seidl, Friederike Schmid, Marc S. Robillard, Jesper L. Kristensen, Hannes Mikula, Matthias Barz, Andreas Kjær, Matthias M. Herth
ACS Nano 2020, 14, 1, 568-584

Investigation of α-amino acid N-carboxyanhydrides by X-ray diffraction for controlled ring-opening polymerization
Olga Schäfer, Dieter Schollmeyer, Alexander Birke, Regina Holm, Kerstin Johann, Christian Muhl, Christine Seidl, Benjamin Weber, Matthias Barz
Tetrahedron Letters 2019, 60, 272–275, DOI: doi.org/10.1016/j.tetlet.2018.12.028

Polysarcosine-Based Lipids: From Lipopolypeptoid Micelles to Stealth-Like Lipids in Langmuir Blodgett Monolayers
Benjamin Weber, Christine Seidl, David Schwiertz, Martin Scherer, Stefan Bleher, Regine Süss, Matthias Barz
Polymers 2016, 8, 427-440. DOI: 10.3390/polym8120427